05 Jul

20+ Wednesday Love Quotes [Updated 2017 w/ Images]
Wednesday Love Quotes to Share
Rekindle your relationship this week with some Wednesday love quotes and images by Quote Bold. Relationships are hard and often take much care, sympathy, compromise and hard work to maintain properly. Get handwritten quotes, beautiful images and romantic ideas to share! You can also try out some romantic sayings or corny love messages to make your relationship a little happier this week.
Related Post: 88+ Positive Quotes for the Day [Images & Updated 2018]
Quote Images and Romantic Ideas for Wednesday
1. "There is only one happiness in this life, to love and be loved." – George Sand
Go on a picnic this Wednesday:
If the weather is nice, pack up a picnic basket for an al fresco date! Spread a blanket out under a tree and share a meal of bread, cheese, fruit, and maybe even some wine with your sweetheart. On the same note, you can definitely take our a good friend for a picnic too to strengthen your friendship.
2. "Keep love in your heart. A life without it is like a sunless garden when the flowers are dead." – Oscar Wilde
This Wednesday, surprise your sweetie with a gift:
Small surprise gifts are the perfect way to show your lover you are thinking of them. Send flowers to her office, meet him after work with his favorite chocolate bar, or bake a batch of his favorite sweet treat for when he gets home.
3. "A successful marriage requires falling in love many times, always with the same person." – Mignon McLaughlin
Write your sweetheart a poem:
If you are good with words, use your talent to tell your partner how much you love them. Even if it is not very "good" hearing or reading your deepest feelings will spark intimacy in your sweetie. A well written poem can also give your significant other a good sense of peace or provide condolences them up if they're feeling hurt or depressed.
4. "The greatest healing therapy is friendship and love." – Hubert H. Humphrey
Give your partner a soothing massage:
Full-body massages are a great way to show your lover both physical and emotional love. The massage itself will feel sensual and relieve tension in their body. But showing you really care about their well-being will set his soul on fire.
5. "Love is a fruit in season at all times, and within reach of every hand." – Mother Teresa
This Wednesday, burn your significant other a mix CD:
Though the technology is a bit out of date, mix CDs are still a fun and unique way to show your partner you love them. Create a custom playlist of romantic songs you feel represent your feelings for them, along with songs that have significance in your relationship.
6. "Love is when the other person's happiness is more important than your own." – H. Jackson Brown, Jr.
Have a movie night:
Snuggle up together on the couch with your partner for a romantic movie marathon. Go with a theme like classic romances (like Casablanca) or rom-coms (like How To Lose a Guy in 10 Days). Don't forget the popcorn!
7. "Love is the answer and you know that for sure. Love is a flower, you've got to let it grow." – John Lennon
Make a scrapbook together:
Gather your favorite photos together, ticket stubs, love notes, and other mementos from your relationship. Put them into a scrapbook, but take time to reminisce with your partner about all the memories these items bring back.
8. "True love stories never have endings." – Richard Bach
Slow dance with your lover:
Slow dancing is one of the most intimate, romantic things you can do. Turn on some music and sway with your partner in your kitchen or living room, really taking the time to fall into each other.
9. "A flower cannot blossom without sunshine, and man cannot live without love." – Max Muller
Sing to your partner:
Whether or not you're a good singer, belting out a tune to your partner is fun and romantic. Choose "your song" as a couple or another romantic ballad and start the serenade. For a more light-hearted approach, choose a silly pop song and change the lyrics to be about your lover!
10. "Love recognizes no barriers. It jumps hurdles, leaps fences, penetrates walls to arrive at its destination full of hope." – Maya Angelou
Recreate your first date:
If you're in a long-term relationship, it can sometimes feel like you've gotten into a routine. Bring back the excitement of your first date together by recreating that day. Go to the same places, dress up nice, and even give your lover a little gift like chocolates or flowers. Don't forget to end the night with a kiss!
11. "True love is selfless. It is prepared to sacrifice." – Sadhu Vaswani
Go to a drive-in or outdoor movie:
Snuggle on a blanket under the stars as you enjoy a great film. Munch on some snacks, laugh together, and kiss a lot. There's nothing better than cuddling with your sweetheart when the air gets chilly!
12. "Love looks not with the eyes, but with the mind. And therefore is winged Cupid painted blind." – William Shakespeare
Treat your lover to a bath:
Run a steamy bubble bath for your partner (and maybe even join them!). Include soothing candles around the tub. When they are ready to get out of the bath, wrap them up with a cozy towel you warmed up in the dryer.
13. "Love grows more tremendously full, swift, poignant, as the years multiply." – Zane Grey
Send a radio shout-out to your lover:
If your sweetie listens to a certain radio station, call in a song request for them. It can be their favorite new hit, the first song you danced to, or something else that expresses your love for them.
14. "Love does not claim possession, but gives freedom." – Rabindranath Tagore
Write a love note:
Slip a small love note somewhere as a surprise for your partner. Try their lunch bag, under their windshield wiper, or in their shoe!
15. "Love is the poetry of the senses." – Honore de Balzac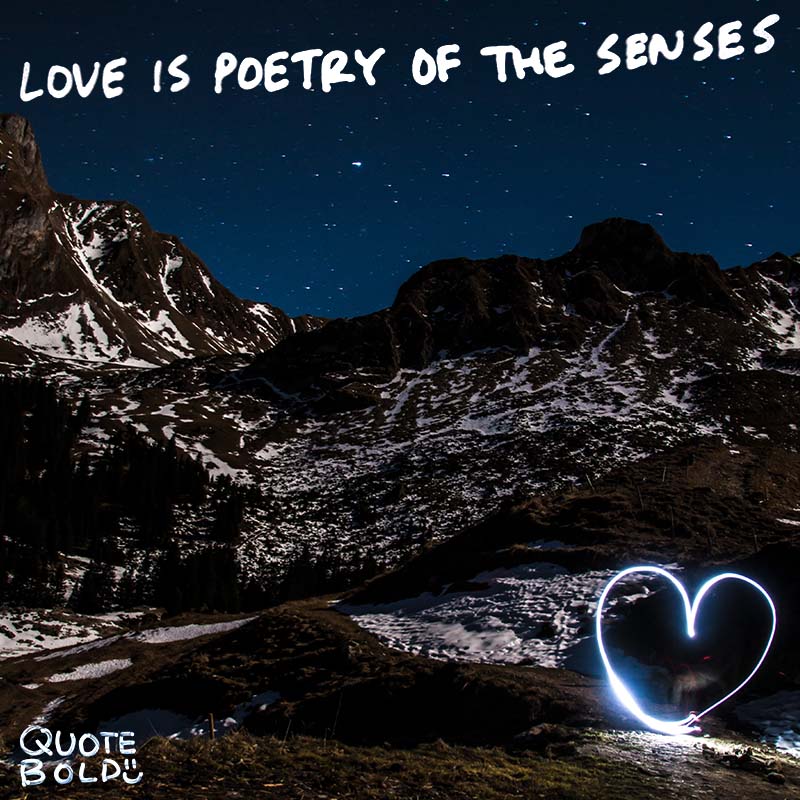 Give your partner a call:
Everyone likes to feel loved, especially in the middle of the work day. Call or email your sweetheart just to tell them "I love you."
16. "Love is friendship set on fire." – Jeremy Taylor
Do a chore this Wednesday:
Show you really appreciate your partner's hard work by doing a chore they hate. From washing dishes to vacuuming, this is a thoughtful surprise. Putting in a small amount of time can go a long way to showing your loved one that you care and constantly think about them.
17. "Unable are the loved to die, for love is immortality." – Emily Dickinson
Do something they love even though you may not like it:
Is your lover into something (like opera or drag racing) that you don't really like? Surprise them with a date to this activity to show your support. Instead of focusing on yourself, really think about what your partner would enjoy.
18. "Love will find a way through paths where wolves fear to prey." – Lord Byron
Go to a theme park:
Amusement parks, boardwalks, and carnivals are super romantic. Share an ice cream cone and ride the Ferris Wheel under the stars to feel like teenagers again!
19. "Love has reasons which reason cannot understand." – Blaise Pascal
Cook together:
Spend the evening creating a meal with your lover. Cooking something delicious together will prove you're a great team! For more romance, eat your meal by candlelight.
20. "Love takes off masks that we fear we cannot live without and know we cannot live within." – James A. Baldwin
Take a "staycation":
Book a hotel room in your town for a night. Take advantage of the hot tub, room service, and chill vacation vibes without going anywhere!
Spend this Wednesday with Someone You Love
We hope you're having a great week and can spend some time with people you care about this Wednesday. Who knows? Maybe the perfect opportunity will arise where you can use some of these romantic quotes too!